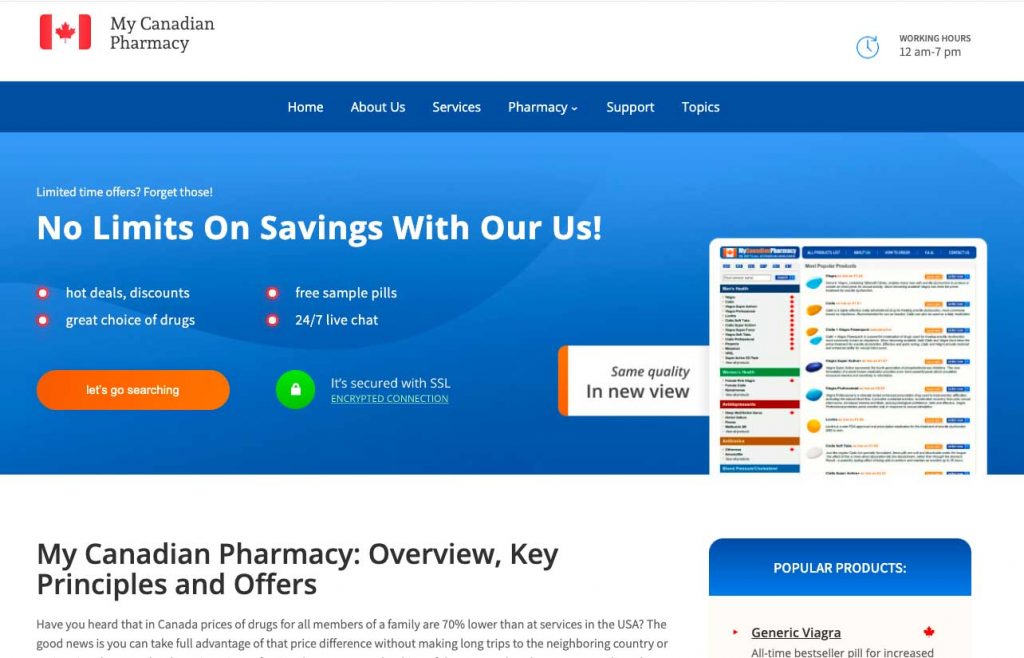 CSMedCenter.com is a pharmacy offering hot deals and limited offers. They promise the highest standards and seem to be operating from locations in Canada and the USA. However, we quickly discover this is all a deception.
Domain

Details
Date of Registry
1998-04-01
Country
Russia
Main Details
Drugstore Name
My Canadian Pharmacy
Address
Fake
Regulatory Approvals

LegitScript

Rogue status

CIPA

✖
Other
✖
Contact Info
Free Number
✖
Contact Form
✔
E-mail
✔
Shipping Methods
Standard Mail
✖
Express Delivery
✔
Free Shipping
✔
Payment Options
Card
✔
E-Check or Personal Check
✖
American Express, Western Union
✔
Domain Name Information
The domain name information for the website address used by this pharmacy shows that they have been registered for a long time. This would seem to show that the pharmacy is more likely to be trustworthy.
There is some information about who has registered this domain name. It tells us that the name is registered to Legato LLC, which is based in Russia.
Business Profile
When we check the pharmacy site, however, we find two addresses for the business, though neither of these are in Russia. They have one address in Montreal, Canada, and the other in Dallas, Texas.
The Canadian address places them in a plaza, and when we check the website for the company that operates the plaza, there isn't a pharmacy located in the building. This appears to be a fake address.
The address in Texas is for a large and impressive-looking office building. There are names of the companies that have offices in the building on the outside, but there isn't a pharmacy on it. While this doesn't rule out the pharmacy having offices in the building, it seems more likely that this is another fake address.
Pharmacy Name
The name of the pharmacy is different from the domain name they are using. They are seemingly using the business name My Canadian Pharmacy, but the domain name appears to say CS Med Center.
This isn't what we would normally expect, and so it could indicate a problem. Checking the internet archives shows that this domain name was previously owned by College Station Medical Center in Texas.
Checking these details further shows that College Station Medical Center was acquired by St. Joseph Health in 2019. There was then a period where there wasn't a proper website before the current pharmacy site appeared.
Anyone can purchase domains that have been dropped by previous owners, and this appears to be what has happened here. This is a further indication that this pharmacy is likely to be a scam using a domain previously used by a genuine hospital.
Regulatory Approval
The pharmacy isn't operating with any regulatory seals to show that they are operating to high standards. Though this isn't surprising given the previous information we have uncovered.
A check with LegitScript shows that they think this pharmacy is a dangerous risk and a rogue.
Medications Sold
This pharmacy is only selling a restricting range of medications. These are generic men's health drugs, and the prices are fairly cheap.
Despite restricting themselves to just these types of products, they fail to give the full amount of information about the medication that they sell. They don't say who has manufactured their generic drugs, or even where they are dispensed from.
This leads to suspicions that their medication isn't as good as it should be. And since they don't have any regulatory approval, there is a greater risk of the meds they sell being low-quality. This might mean that the medications do not contain the correct ingredients, for example.
Payment Options
The checkout page on the site does have some security, though when you go to pay you find yourself being transferred to a different website. On that other site, you can pay through the following:
American Express

Diners Club

Visa

MasterCard

JCB
Shipping
The pharmacy is currently only offering one shipping option. This is their trackable service that will cost you $30. This delivery method is expected to take less than two weeks to arrive with you.
CSMedCenter.com Reviews
While it is possible to find some online customer feedback for College Station Medical Center, we haven't been able to find anything directly relating to this pharmacy.
Without any CSMedCenter.com reviews found on independent sites or the pharmacy itself, it is difficult to judge whether this drugstore is doing things correctly. We suspect, however, that it doesn't provide great customer service.
Conclusion
As we have shown, this pharmacy is pretending to be a more reputable medical facility. It seems likely that the owner of this pharmacy isn't in Canada or the US, instead of being located in Russia.
The drugstore also didn't have any regulatory approval, customer feedback, or tells us where they dispense the medication from. All of this leads us to suspect this pharmacy is a scam and a bad choice.